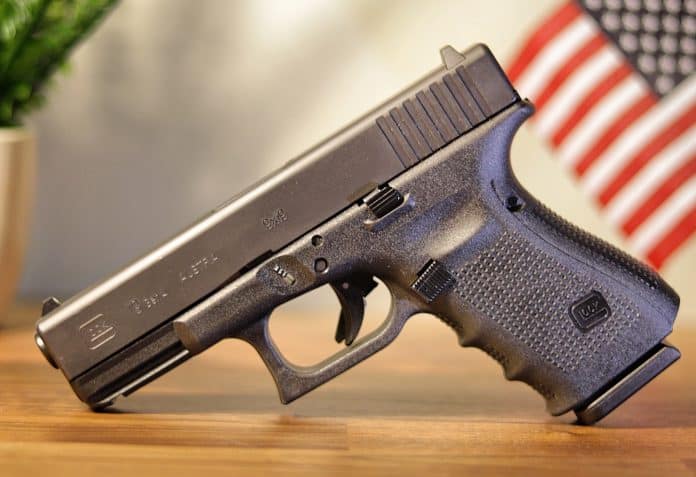 The Glock 19 is the best gun in the world and if you disagree? Bad news, you are wrong, and here's why.
Its what the professionals choose
Love it or hate it, the Glock has been the pistol of choice for most law enforcement and special operation military units. Its simplistic design makes it reliable and easy to use.
When the Glock pistol was first introduced many people were immediately turned off. It was plastic and didn't have an external hammer. At the time, the gun community was used to heavy all-steel handguns.
Most people have a hard time with change and accepting new things (me included). The Glock revolutionized the sidearm overnight.
Click here to check the current prices of the Glock 19
It works and is reliable
Glocks definitely hold the title of being the most reliable pistol on the market. This is probably the most important factor as to why the Glock is the best gun on the market today.
Brand new out of the box it's ready to go. No need for a break-in period like some other pistols.
Doesn't matter if the pistol hasn't been cleaned and is filthy it will still chew through anything you run through it.
Simplistic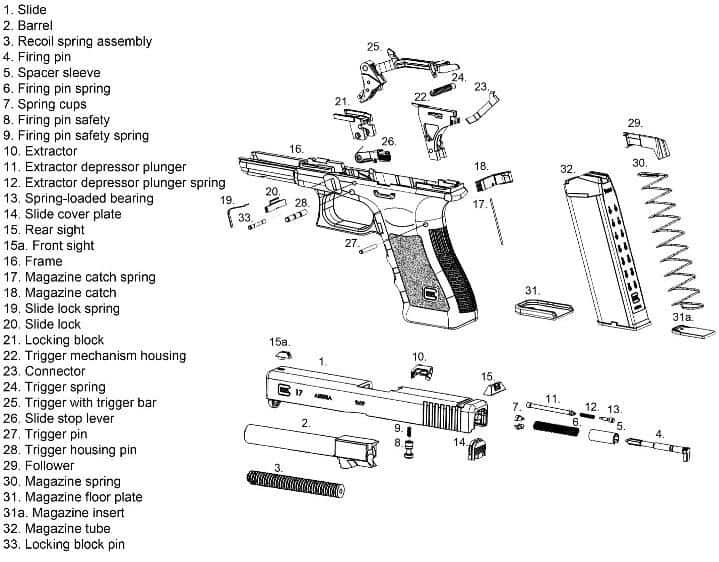 Simple is better. with only 33 parts the Glock is minimal when it comes to its functionality and design. The fewer part there are the less likely something is to break or fail.
With complex firearms, they tend to be more finicky and are accustom to malfunctions.
The ease of use also is a huge factor. There is no external thumb safety and extra controls. This makes it a great choice for a novice shooter with not much firearms experience.
Only a slide stop, magazine release, and the trigger. The only thing a pistol needs. No extra fluff or distractions.
Click here to check the current prices of the Glock 19
Aftermarket support
The Glock has a ton of aftermarket support from many different companies. Any gun store you visit you can also count on finding accessories specifically made for Glock pistols.
Everything from sights, lights, lasers, holsters, triggers, and extra magazines can be found literally everywhere.
No need to track down parts or accessories for uncommon guns, also everything for Glocks will normally be in stock too!
Hostlers can easily be found and purchased for the Glock 19. Every company that makes a holster will make one for this pistol.
You never have to worry about not finding the correct holster for your gun and it can save you a lot of time.
The pistol is so common that many gun companies make their firearms to accept Glock magazines, which is pretty damn cool.
Click here to check the current prices of the Glock 19
Affordability
Glock prices are not the lowest in the market, however, they are very reasonable. Most quality pistols are normally around the $500 price point and Glock is right in the middle.
I personally would like to see them a little cheaper (like everything else) but Glock knows they sell and why would they lower the price if people buy them.
The big kicker is when it comes to magazines. Sig Sauer charges an arm and a leg for extra magazines (normally over $50) while Glock mags can be found at around $25 apiece.
Click here to check the current prices of the Glock 19
Here's a little personal story
When I first got into guns I knew I didn't want a Glock. I wanted something different and unique. Something that felt personal and rare almost. Why did I feel this way? I have no idea.
Everywhere I looked people were recommending Glock and telling me that should be my first pistol. Online forums, youtube videos, people working at the gun store were all saying pretty much the same thing. Go buy a Glock.
"Its the best, it's this, it's that, blah blah blah…."
Being stubborn I didn't listen and decided to purchase an Israel Weapons Industries (IWI) Baby Eagle II (Jericho 941) chambered in 9mm. If you are unfamiliar, it is very similar to the CZ 75.
The Baby Eagle was a good gun, it worked, was accurate, but just one major downside. It was heavy, too heavy to use for conceal carry.
Long story short I ended up selling it and buying a Glock.
Why didn't the Army choose it?
When the U.S. Army announced that they chose the Sig Sauer M17 (P320) and not the Glock 19x many people were disappointed.
Special Operations units have been using a Glock for a while and people were actually very upset at this news. Why the Sig and not the Glock?
Money. Everything comes down to money at the end of the day and the government always picks the lowest bidder.
I believe that Sig won the contract because they offered a cheaper price than Glock. This is my own personal speculation and I could be wrong.
Click here to check the current prices of the Glock 19
Which Model is the best?
Glock offers a huge selection of different models that are of different sizes and calibers.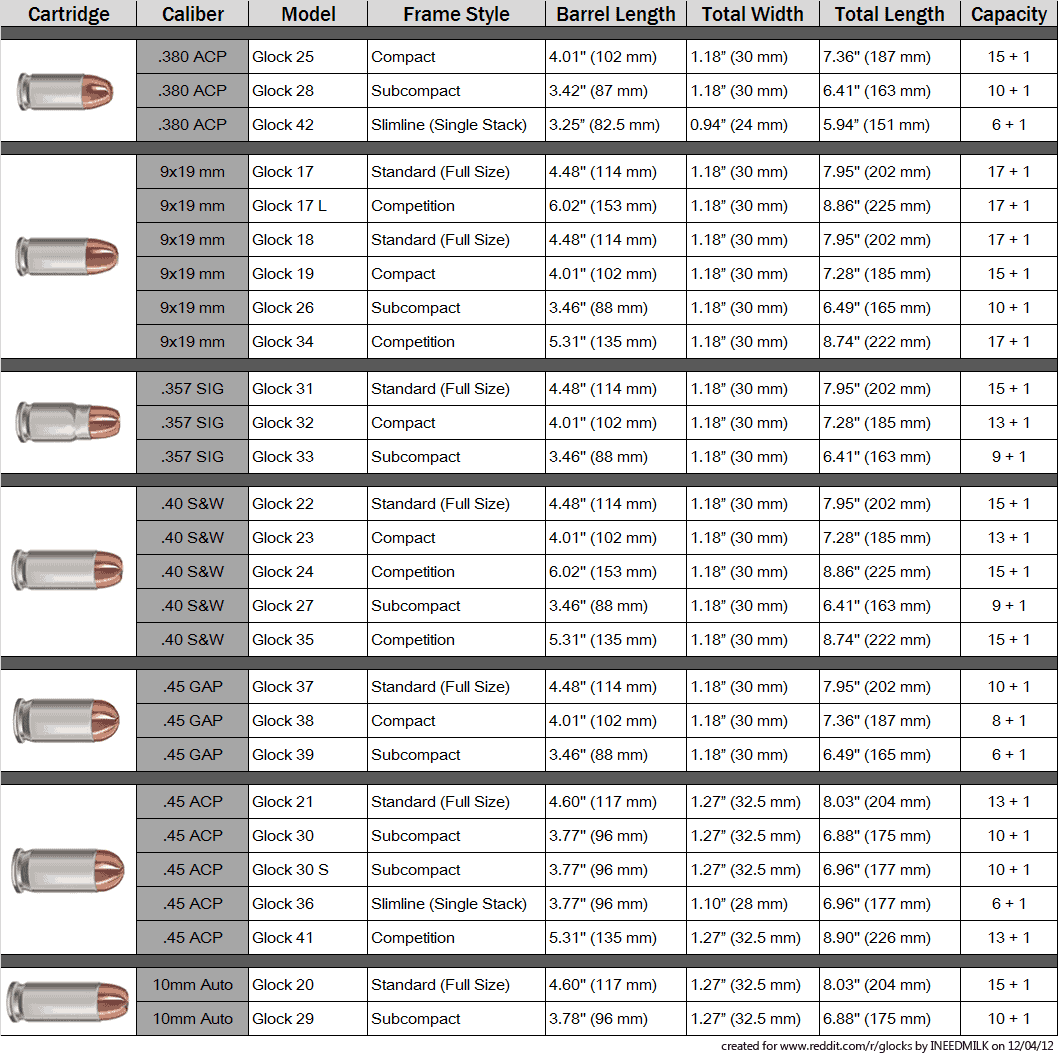 So now that we have determined why the Glock is the best pistol to date, why the Glock 19 when there are so many different models available?
The simple answer is because of versatility.
The Glock 19 is legendary and can fill multiple roles and does each of them extremely well. The 19 is a midsize handgun that can be used as a duty weapon or a concealed carry.
It is the go-to pistol for just about everything.
The Glock 19 is chambered in 9mm and it is the most common caliber for a handgun. You get good capacity mixed with good stopping power.
Click here to check the current prices of the Glock 19
Glock 19 Gen 4
Specifications:
Caliber: 9x19mm
Length: 7.28"
Height: 4.99"
Width: 1.18"
Barrel: 4.02"
Trigger: 5.5 pounds
Weight: 23.65 w/empty magazine
Slide Finish: Black Melonite
Capacity: 15+1 
Buy a Glock 19
I personally put off buying one way too long. Being around firearms for a while I tried hating on it. I was honestly being stubborn because I didn't own one myself.
Now that I have one I'm much happier and life is great!
So, what do you think about the Glock 19? Do you have one? Do you want one? Or are you that small part of the gun community that hates them? Let me know in the comments below.
Thanks for reading!