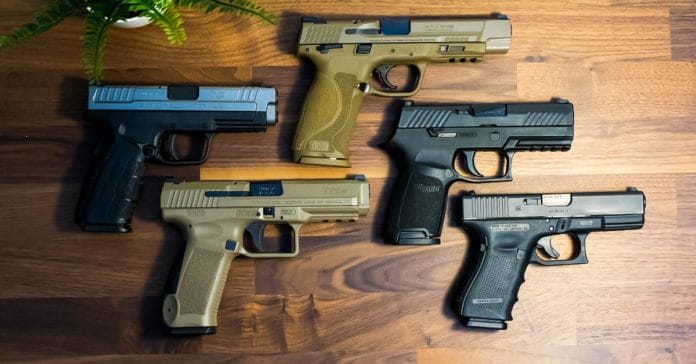 Looking for the best handgun for beginners & self-defense can be overwhelming if you are a beginner. There are a lot of good quality firearms on the market and there are many choices.
This list is the Top 5 best handguns for beginners and Self Defense that are recommended for new shooters.
These are not considered entry-level guns only and are also some of the best options available on the firearms market today.
Semi-auto vs revolver
These are two major types of common handguns. There are revolvers that are generally simpler and hold fewer rounds and there are semi-automatic pistols that are more modern and hold more rounds.
Revolvers definitely have their place but it's all about capacity nowadays. I hear a lot of gun people recommend revolvers for beginners and I understand where they are coming from but a semi-automatic pistol with good capacity is what's best for self-defense.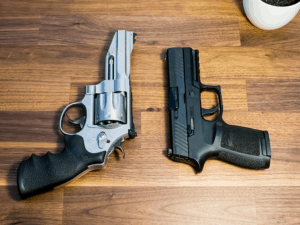 Some people struggle with pulling the slide back on a semi-auto and racking the slide in order to chamber a round. They just need to practice and be shown how to properly do it.
If a person doesn't have the dexterity or strength to pull back the slide they might not have the finger strength to pull a long double-action trigger on a revolver. Semi-autos have shorter and lighter trigger pulls.
Putting a revolver in someone's hand who is a beginner can be dangerous because if it is held wrong while firing the shooter can be seriously injured.
Because of the chamber gap between the cylinder and barrel on a revolver, there is potential to lose a finger if the revolver is held wrong.
A beginner can be injured while firing a semi-auto as well but the most common injuries are getting pinched by the slide if held wrong.
Training and proper instruction are very important for any type of firearm.
The best handgun for beginners is a mid to full-size semi-auto pistol.
Deciding on what caliber
All of the handguns that are mentioned below come in a few different calibers. The main ones are 9mm, 40 S&W, and 45 ACP.
All of them are good and have their place but in the past few years, most people prefer 9mm.
This is because it is a slightly smaller round and this will increase the capacity of your gun (how much ammo it holds) 9mm is the least expensive out of the 3 and has less recoil.
Also, modern 9mm ammo has come a long way and there are a lot of different self-defense rounds that are very effective.
This is what is recommended for a first-time buyer or anyone for that matter.
9mm FMJ & 9mm Hollow Points
The two different types of ammo are full metal jackets (FMJ) and hollow points.
FMJs are used for practice shooting and range use. This is because they are cheaper and can cause over-penetration in a self-defense scenario.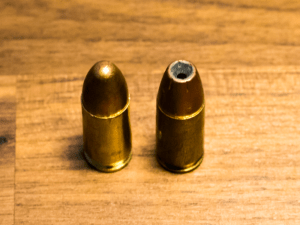 Over penetration is how far the bullet will travel through something after it hits it. You do not want to end up hurting anyone that you do not intend to by mistake, and that is why hollow points are used for defensive ammo.
Hollow points are specifically designed to prevent over-penetration and also to cause as much tissue damage as possible to stop threats.
They are more expensive and should be used for home defense and self-defense.
Click Here for current ammo prices and availability
The best handgun for beginners
This list includes the most common handguns that can be found at most gun stores. There are a lot of other great options but these are very common I wanted to keep this list simple.
Also, all of the guns mentioned will be chambered in 9mm.
They will all come with cases and have a trigger lock or a cable lock in them so you can keep it locked up if you choose to do so.
So without further ado, let's get into it.
Related Articles
5. Canik TP9
So starting off with the number 5 handgun on our list is the Canik TP9. This is a Turkish gun and is also a very budget-friendly option.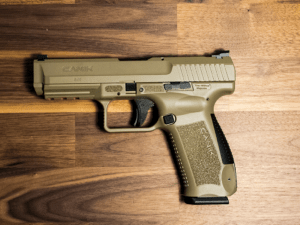 It has many great features and is about half the cost of other brands that include these features.
The 9mm magazines hold 18 rounds and it comes with 2 magazines in the box. 
There is a safety feature on the trigger that will prevent the gun from firing unless the trigger is pulled. This is commonly referred to as a split trigger safety.
It has a loaded chamber indicator on the top of the slide which shows if there is a round loaded in the chamber, and it has a red cocked indicator on the back of the slide.
The front sight is a standard white dot and the rear is a blacked-out U-notch sight.
Some other features include a changeable backstrap that can accommodate different hand sizes and grips.
The trigger is really good also.
It comes in two different colors too, Black and Flat Dark Earth (FDE)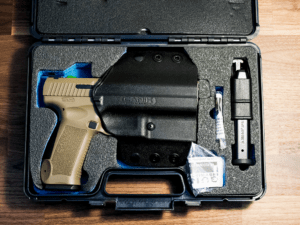 Canik includes a hard Kydex holster in the box with the gun too which is a nice little bonus.
They are reliable and have started to gain a loyal following and definitely a good choice for someone on a tight budget.
For the price, you can't beat what you are getting.
Click here to check the current prices of the Canik TP9
4. Springfield XD Mod 2
The number 4 choice for the best handgun for beginners is the Springfield XD Mod 2.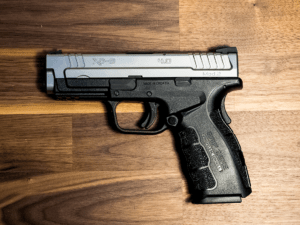 This handgun is a great choice for beginners because it is a simple and well-made firearm. New shooters will be attracted to this option because it is the perfect balance of quality and value and fairly priced.
There is a backstrap safety on the gun which ensures you have a proper grip on it before it will fire.
Beginners will also appreciate this extra safety feature.
It comes with 3 magazines that hold 17 rounds of 9mm. Springfield usually has rebates available too, and when you send them in your receipt you can receive extra mags and some other gear in the mail. (usually a holster too).
The grip is very comfortable on the Mod 2 and it has a hi-visibility fiber optic front sight. There is a loaded chamber indicator and a cocked indicator.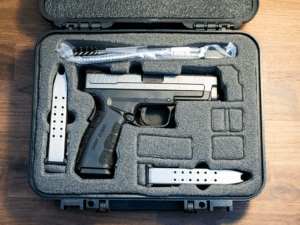 Left-handed people also will like that the magazine release is ambidextrous.
The trigger is pretty good for production handguns and they are popular handguns and should be widely available.
Click here to check the current prices of the Springfield XD Mod 2
3. Sig Sauer P320
Number 3 on our list is the Sig Sauer P320. This handgun was actually chosen by the United States Army to be the standard sidearm pistol for the soldiers.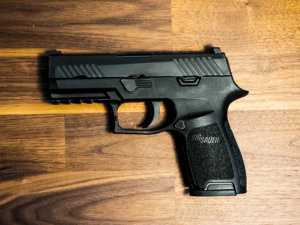 The military version is called the M17 but it is essentially the same as the civilian p320 model.
There are a lot of different sizes Sig offers for this handgun, but the compact version is the one that is the most versatile.
The full size or compact size is what is recommended for beginners.
It comes with 2 magazines in the box and they hold 15 rounds of 9mm. Most of them now come with 3 dot night sights too.
Night sights are good for self-defense because they will glow and you will still be able to see the sights in low light environments or in the dark.
The Sig P320 is very modular and parts can easily be changed. There are different grip modules that can be replaced and you can every change the caliber fairly easily.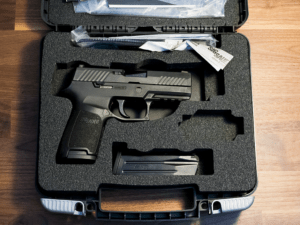 Originally when they were first released they did have an issue with the drop safety. They could potentially fire when dropped but Sig has since resolved this issue.
The Sig P320 is another one of the best handguns for beginners.
Click here to check the current prices of the Sig P320
2. Smith & Wesson M&P9
On the number 2 spot, I went with the Smith & Wesson M&P9 M2.0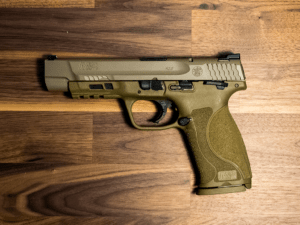 This is a very reliable and well-made handgun and it is especially great for beginners.
You can get the M&P with or without an external thumb safety and this pistol is good for left-handed people too because its magazine release button can be flipped to the other side.
The version with the thumb safety has it on both the right and left sides also.
It comes in black and FDE and the backstraps are interchangeable and they have an aggressive texture on them which is a nice little upgrade.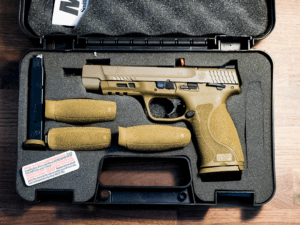 It feels great in the hand.
The trigger is a good improvement on the M2.0 compared to the original M&P.
The gun comes with 2 magazines that hold 17 rounds of 9mm each. Smith also added metal rails inside the frame that help reduce the recoil when firing.
Click here to check the current prices of the Smith & Wesson M&P9
1. Glock 19
Of course, the legendary Glock 19 had to be number 1 on our list. This is the most highly recommended handgun there is and the best handgun for beginners and anyone for that matter.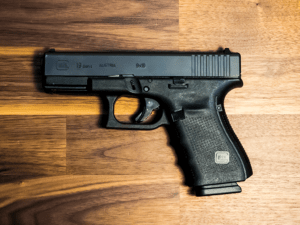 They have the title of being the most reliable handgun out there and are carried by a majority of police departments.
They are simple (only 33 parts) and have huge aftermarket support. It is very easy to find parts, holsters, upgrades, and extra magazines.
Glock offers different Gens of this gun and they are all good. The Gen 4 is what I personally like most and is what I recommend however, they are all great.
The Glock 19 Gen 4 comes with 3 magazines in the box and they hold 15 rounds of 9mm each.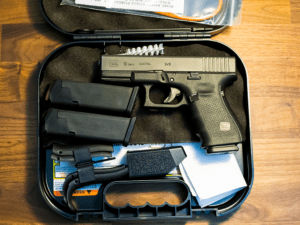 It does not have an external thumb safety but has a split trigger safety and internal safety features.
This is the absolute best handgun for beginners.
Click here to check the current prices of the Glock 19
Check out the Glock 19 Best Gun Ever article.
Related Articles
Basic Pistol Training
If you are a complete beginner or someone who hasn't had much experience with firearms it is highly recommended you take a class from a certified instructor.
Firearms and especially handguns are very dangerous and are not toys. Firearms need to be handled and treated with respect.
So please make sure you are safe!
USCCA Training offers a good online learning course on the fundamentals of concealed carry and home defense.
Recommended Shooting Accessories
These are some of the items and gear that I would also recommend getting if you are new to handguns and looking to purchase your first one. A good cleaning kit, eye protection, and hearing protection are required when becoming a gun owner. 
A range bag and speed loader are some other good accessories that go along with it.
Most importantly, firearm storage is something that needs to be seriously considered. This is often overlooked, but especially if you have kids in the house you need a way to safely secure your gun and keep it out of someone's hands you do not want.
Cleaning Kits
The two brands of kits I like are Otis and Real Avid. I'm sure there are a lot of other great ones but those two are the ones I have the most experience with and can vouge for.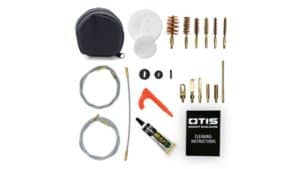 As far as what solvents to use that could be an entire article on that topic in its self. For a quick easy answer, I recommend CLP.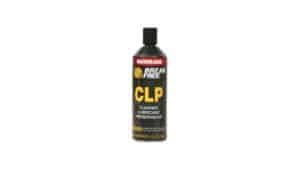 It's also what the military uses so if it's good enough for them it will be good for you.
Eye Protection
Always wear eye protection when practicing shooting and training. Hot brass is ejected when firing and it can bounce off walls and come back at the shooter.
Please make sure you are always safe and wear eye protection. It really doesn't matter what kind as long as it's rated for Z87 and that will always be marked on the frames.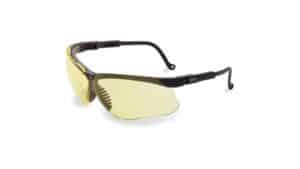 I like to use the Howard Leight Genesis glasses, they work well and are inexpensive. I also don't like spending too much money because after awhile the lens will get scratched and scuffed up so you will have to replace them eventually.
If you plan on doing outdoor shooting the yellow tinted lens are nice, but if you only plan on going to indoor ranges, clear ones will work just fine.
Hearing Protection
Two main options when it comes to hearing protection. Foam plugs and earmuffs. These both will have a decibel rating and it really is a personal preference.
When shooting handguns I like using the muffs and when shooting rifles, I find the foam plugs are more comfortable. Some people also like to double up on hearing protection and wear the foam plugs under the muffs.
It really doesn't matter which type of plugs you wear as long as they are for shooting. These are the Walkers Foam Ear Plugs and it's what I use.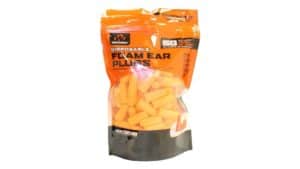 Remember to always wear some type of hearing protection because once you lose or damage your hearing it never comes back.
There is a lot of electronic hearing muffs on the market now and I have the Howard Leight Impacts Muffs and they are awesome.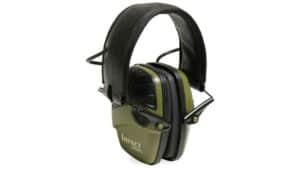 They have microphones in them so you can hear better while wearing them and you are also protected from noises over a certain decibel. Really cool stuff I might say.
Range Gear
Having some range gear and a way to transport your firearm, ammo, and other accessories aren't necessary but will make life a lot easier.
Soft cases are what I like to keep the firearm in for transport and I keep that inside of my range bag. I also store all of the other stuff that I bring to the range and even some cleaning supplies and like to stay organized.
I like using the Boyt Harness soft handgun case.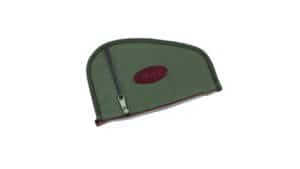 And I use the VISM Competition Range Bag.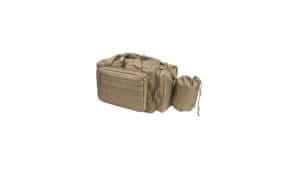 One other item I recommend for a new shooter is a speed loader. Loading handgun magazines can get uncomfortable after a while and will make your fingers hurt. Once you get down the muscle memory it gets easier but having a speed loader helps a lot.
I have the Maglula UpLULA Speed Loader and it was a really good investment.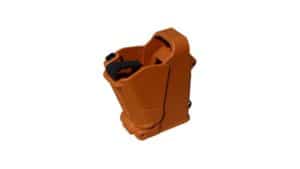 Safes and Security
This is one thing that is often overlooked but is also one of the most important parts of being a firearm owner. having a way to keep it secure but accessible quickly is how I recommend storing your firearm.
It is kind of a catch 22 though. You want to keep it away from people that you don't want getting access to it, but at the same time, you want to be able to get to it quickly if you need to.
Biometric safes are what a lot of people like using and the technology behind them has come a long way. Some people still prefer mechanical locks that do not have electronics. Everything is always a trade-off.
Vaultek makes a really good one that is fast and reliable. It's their Vaultek VTi Biometric Safe.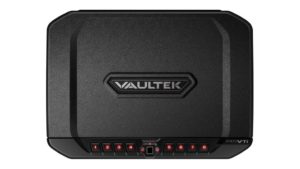 If you like having one that is more traditional and has more room for other stuff, then I would recommend the Barska Safe. They are both similar in price.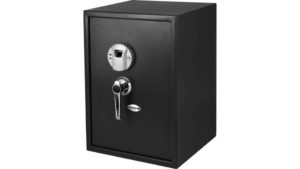 You need to decide if you favor speed over reliability.
Conclusion
It's great seeing so many new people recently that are looking to purchase a handgun for the first time and taking their safety seriously.
We are lucky to be able to legally own these firearms and it's good to see some who may have not understood the need or reason for owning a gun start to understand.
That's my list of the best handguns for beginners so tell me if you think I should have added some other options. Also, if any on the list you disagree with.
Complete list of everything mentioned
(Click the links for the most up to date prices and availability)
Best Handguns For Beginners
Ammo Prices & Availability
Cleaning Supplies
Personal Protective Equipment
Range Gear
Security & Storage